Today's law enforcement and criminal justice system has become heavily influenced by advances in science.  From DNA evidence to blood testing, from drug identification to fingerprinting, forensic science plays a key role in DUI, drug and other criminal cases.  The problem is that the vast majority of lawyers don't have the necessary training to stand toe-to-toe with the scientific experts the government will call to testify against you.
The McShane Firm is different
At The McShane Firm we are known as "The Science Attorneys" and as Lawyer-Scientsits.  Every year, we attend thousands of hours of scientific training all in an effort to provide you with the best legal and scientific defense to your case.  There are a lot of issues with government crime labs and we are prepared to challenge them every step of the way.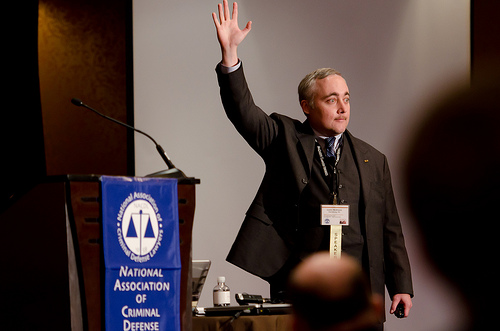 Attorney Justin McShane's scientific credentials are unmatched by any attorney in the nation. Some of the highlights are:
He is a frequent invited guest lecturer at national, state and local seminars which are attended by prosecutors, police, investigators, lawyers, judges, academics, scientists, machine manufacturers, and policy-makers. He has lectured for 35 different organizations in 22 different states.
Has been invited eight times to lecture at the American Chemical Society (ACS) National meeting and has presented four times at the American Academy for Forensic Science (AAFS) national meetings.  These are scientific organizations. These lectures were on scientific issues in front of audiences filled with scientists.
Named as the Senior Assistant Chromatography Instructor for the American Chemical Society.  Chromatography is widely used in DUI and drug blood testing and controlled substance identification.
Serves as the co-chairman of the Forensic Science section of the ACS-Chemistry and the Law Division.
Serves on the faculty of the prestigious National College for DUI Defense.
Publishes a popular forensic science blog: The Truth About Forensic Science
All of the attorneys at The McShane Firm are:
Graduates of the American Chemical Society Forensic Chromatography Course
Have taken Drug Recognition Expert courses which is the highest level of training the police take in impaired driving
Received advanced training in the identification of solid drug dose (pre-consumption form) cases
Have cross-examined and won acquittals based upon science and translating it to both judges and juries
The choice is clear.  If you want to fight the forensic evidence against you, call the firm that knows the science and commands respect in the courtroom. Call (717) 657-3900.